COVID-19 : Oxfam's initiatives around the world
It has already been a year since the pandemic turned our lives upside down. From Montreal to Rio, from Rome to Kinshasa, the coronavirus crisis spares no one. However, it brought to light, in a brutal way, the inequalities of our world. For many communities, the pandemic is one crisis on top of another. Oxfam works with people who need it most around the world.
14.3 million people supported
1.09 million hand washing stations installed
699 health centers supported
965,930 hygiene kits distributed 
Protecting citizens from illness
When the pandemic struck, Oxfam worked tirelessly to identify and support the populations at highest risk of contracting coronavirus; specifically, those struggling to access clean drinking water, and those in high-density locations such as displaced persons or refugee camps.
Easing the pandemic's "side effects"
By some estimates, the pandemic may drive half a billion people into poverty. Factors such as confinement, – which hampers access to food and agricultural seed – job losses, and healthcare-related costs can push vulnerable populations to the breaking point.
Beyond delivering water and soap, it's essential that we support the most vulnerable populations in feeding themselves and meeting their basic needs.
In addition to providing essential food items, we also made monetary transfers to certain communities. These transfers enabled us to access hard-to-reach areas and to stimulate local economies so communities can meet their basic needs with dignity and independence.
Moreover, protecting women and girls is a constant concern in all of our interventions. We made certain to address their specific needs, for example by offering support to women vulnerable to acts of violence.
Oxfam supports vulnerable populations
Oxfam is working in 68 countries to respond to the crisis, working with local partners, ministries of health and key UN agencies. With the support of our members, Oxfam has provided emergency aid to over 14.3 million people.
In Myanmar and Bangladesh, we have increased our health promotion work around hand and respiratory hygiene in the camps where we work. Our team in Myanmar is working closely with local partners to scale up our humanitarian assistance in more than 100 displacement camps, distributing soap, building more than 1000 handwashing stations (to date), distributing 17,000 additional bars of soap per month, increased hygiene materials and delivering health education and training in camps for people displaced by long-standing conflict.
In the Zaatari refugee camp in Jordan, which is now in complete lockdown, we are using social networks and WhatsApp to spread messages promoting good hygiene practices. We are reaching more than 2,000 children with awareness sessions on proper handwashing techniques
In Syria, which is now in the 10th year since the outbreak of conflict, people are facing the grim reality of COVID-19. In response, Oxfam is seeking approvals for a mass-media campaign and scaling up delivery of clean water in the most at-risk communities. The first phase of our plan aims to reach more than 100,000 people directly.
In Pakistan, we have installed water tanks in a large centre where people are quarantined to allow them access to clean water. And in Iraq, we are advance-shipping hygiene and infection control materials, in addition to delivering public health awareness campaigns.
In Yemen, families and communities have endured more than five years of conflict, which has left the health system in ruins, and has pushed vital resources like clean water, safe shelter and proper nutrition out of reach for many. Oxfam's Yemen country team is preparing a public health promotion campaign on COVID-19 prevention, including training for community health volunteers to engage in community awareness campaigns, and support to health facilities with hygiene care materials.
In Afghanistan, we are incorporating COVID-19 awareness-raising messages into our ongoing humanitarian response, which includes distributing food and cash to families, and supplies to support farmers.
In Mozambique, where families are still recovering from Cyclone Idai, which made landfall just over a year ago, Oxfam and partners are working to combat misinformation about COVID-19 and to raise awareness of prevention and treatment with the help of community volunteers.
An outbreak in Gaza would have tremendous consequences, as the health system was already collapsing prior to COVID-19 and more than half of the population is living under the poverty line. Oxfam is providing 100 beds and hygiene kits to quarantine centres in Gaza, as well as hygienic protective clothing, handwashing facilities and sterilization materials for 750 medical staff working in 15 non-governmental medical centres. We also are working with the World Health Organization and UNICEF to support a public-health campaign across the Occupied Palestine Territory.
Fighting the pandemic in a refugee camp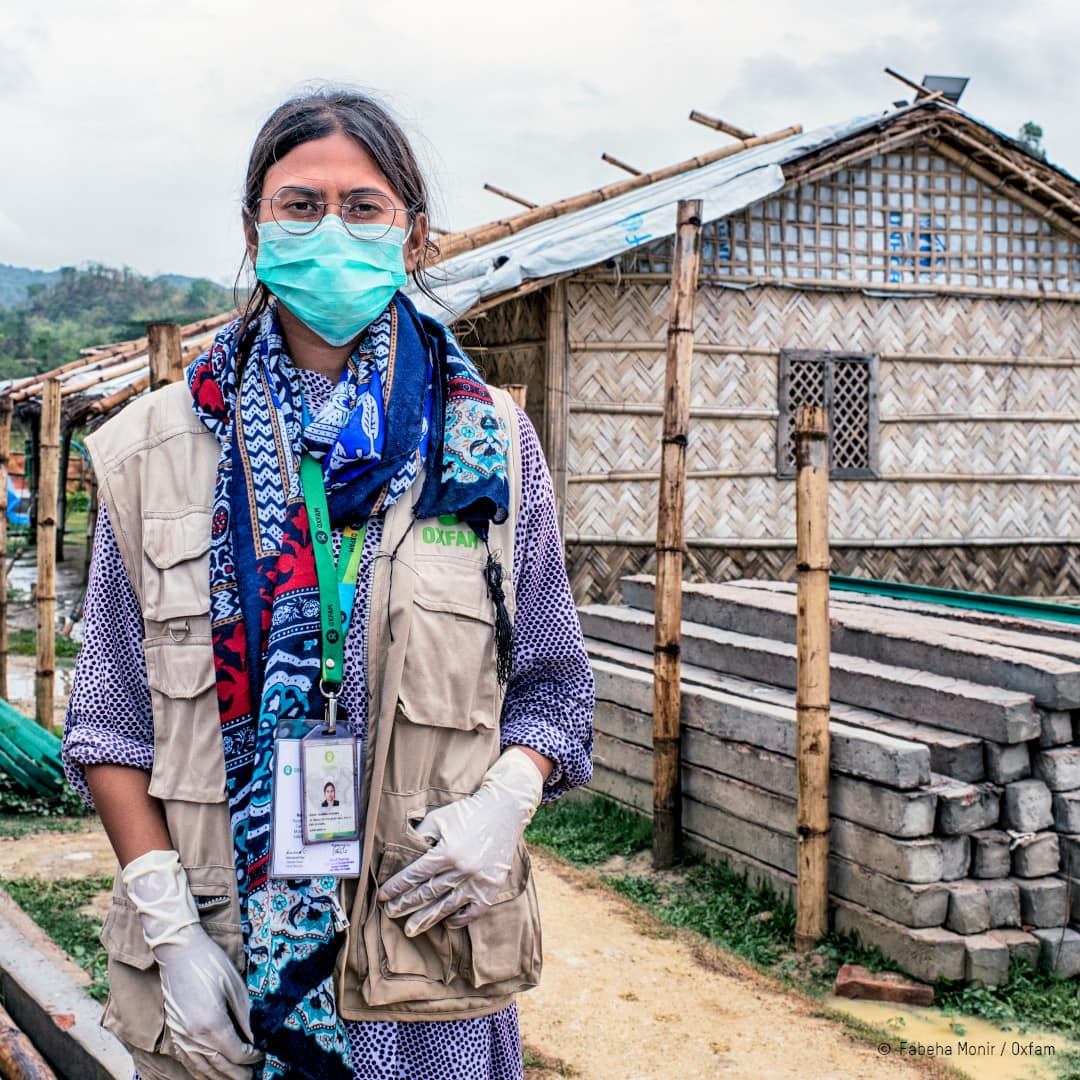 Oxfam staff member Iffat is providing service in the camp during Covid 19 outbreak. Cox's Bazar, Rohingya Refugee Camp, Bangladesh.
Photo : Fabeha Monir / Oxfam.
For our teams on the ground, being on the front lines in dealing with COVID-19 has not been easy.
This is Iffat, she works for Oxfam in Kutupalong refugee camp in Bangladesh. More than 600,000 Rohingya refugees are crammed there in very difficult conditions.
For the past year, she has had to ensure that refugees follow hygienic standards such as washing their hands, respecting physical distancing and wearing a mask. Iffat takes pride in her work, although it is not always easy.
Fortunately, thanks to the support of our members, we continue to provide these populations with hygiene kits and install water points to limit the spread of the disease.
An act that changes lives
By acting together, we can continue to improve the lives of many people who must overcome the consequences of the pandemic. You can change lives by supporting Oxfam's activities.
25 $
I offer a water filter for a whole family
65 $
I offer meals to a family for a week